Insulated PP Squeeze Bottle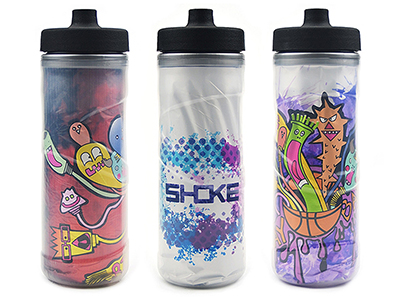 This kind of water bottle has a double walled body, which can sufficiently slow down the melt of ice cubes. It's designed for cold insulation and the cold insulation could be lasted for 5 hours. Shuoke is a professional water bottles manufacturer that can meet your requirements of all kinds of custom water bottles.
Parameters
Material: PP
Capacity: 600mL
Weight: 85g
Colors: Shuoke can customize the insulated bottle & mug according to customer requirements.
Product details
Testing under room temperature of 20℃
Begin
After one hour
After two hour
After three hour
After four hour
After five hour
Features
The PP insulated bottle & mug are made using an odorless, BPA free PP material that is certified to FDA and LFGB standards.
The insulated PP bottle and mug use a double layer design with aluminum in the middle in order to reflect heat. This improves the time drinks are kept cold, going as far as doubling the time found in a single layer design bottle.
The bottle lid is a leak resistant, direct injection valve that prevents any leaks. This is patented in America.
The PP insulated bottle has a wide mouth design, making it easy to fill with ice cubes.
Package