Sports Bottles with Straw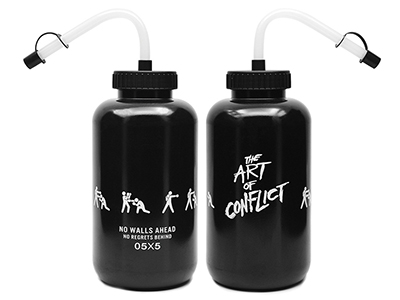 Sports bottles has a long straw designed for athletes for boxing, kickboxing, ice hockey, fencing and other sports so that they could drink without taking their helmets off.  Besides, the bottle body made of LDPE is soft and easy to squeeze so that it's convenient for drinking more and quicker with no need to suck the straw. Shuoke is a professional water bottles manufacturer. You can have custom long straw water bottle for larger sizes, more colors and more gorgeous patterns.
Parameters
Material: LDPE/PP
Capacity: 1000mL
Weight: 100g
Colors: Black
Features
The bottle uses a wide mouth design to accommodate ice cubes.
The boxing water bottle adopts tritan material, and the material of the bottle does not contain BPA, it also resists high temperature and impact.
The bottle mouth features an extended straw to help the user drink.
The straw of the boxing water bottle has a dustproof cover which makes the bottle easy to clean and use.
The bottle can be printed with special designs according to client requirements.
The boxing water bottle uses carton packaging.